A Piece of Cake Cape May.
A Piece of Cake Reviews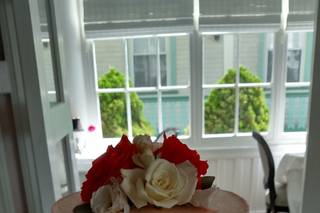 A Piece of Cake

Cape May Court House, NJ

4.8 out of 5 rating, 21 Reviews
View more information

21 Reviews

Recommended by 96% of couples
Quality of service

4.8 out of 5 rating

Average response time

4.8 out of 5 rating

Professionalism

4.8 out of 5 rating

Value

4.7 out of 5 rating

Flexibility

4.8 out of 5 rating



Erin M.
Married on 10/31/2020

Such incredible cake!!

Cyndi could not have been nicer. The cake was out of this world and I got such positive feedback.

Would definitely recommend her!!

A Piece of Cake's reply:

Aww thank you so much ! Congratulations to the new Mr. And Mrs..

Love setting up the dessert table.




Colleen
Married on 09/13/2019

An outstanding baker. You will love her for your wedding too.

We knew we wanted Cyndi in charge of our Wedding desserts from the minute we walked in. You can instantly feel how much she loves her bakery business. We were so happy. Our guests raved about the dessert spread. They loved the variety and options and the whole display was wonderful.

She had a list of nearly 40 options of mini desserts. She guided us in the more popular choices. We narrowed it down to 8 varieties for 130 people. I am sure she also would have created a beautiful wedding cake, but we wanted to eschew a traditional cake for a dessert bar. Piece of Cake gets 10 thumbs up from us. They made our wedding day easy and delicious. They contacted the wedding coordinator and set up the entire spread and the rented display stands. Cyndi is a true pro.

A Piece of Cake's reply:

Thank you so much, we loved working with you guys. Congratulations and thank you for allowing us help make you bug day a little sweeter.




Bonnie B.
Married on 09/07/2019

Highly recommend

Cyndi was awesome to work with. Her flavors for our cupcake cake were beyond imagination! Ever flavor was excellent. She made our day!

A Piece of Cake's reply:

Thank you so much bonnie and congratulations ! We were so glad to be able to help make your day a little sweeter.

Are you interested?

Send a message




Valarie
Married on 11/10/2018

Great experience!

When we went for our tasting, I knew this was the place for us. The cupcakes were delicious and and Cyndi was amazing to work with. She had great suggestions and was so awesome at incorporating our wedding colors. I would definitely recommend A Piece of Cake!

A Piece of Cake's reply:

Thank you so much it was out pleasure working with you to make your big day a little sweeter . Congratulations to the new Mr and Mrs.


Kelly
Married on 09/15/2018

I wish I saved more of my wedding cake because it was SO good and gone within minutes. Cyndi makes the BEST cakes and desserts. She was also AWESOME to work with – she has such a passion for baking and events and it really shows through in her work. She set everything up prior to the wedding and it was beautifully displayed. We perenggan cookies, cannolis, cupcakes, brownies, cheesecake bites, and a wedding cake! Everything was a huge hit and tasted great. We will absolutely be going back every anniversary to get a small cake every year.

A Piece of Cake's reply:

Thank you so much, it was our pleasure to work with you and help make your big day a little sweeter.


Amanda
Married on 08/10/2018

Our cake was absolutely amazing! It was beautiful and delicious! Thank you Cyndi

A Piece of Cake's reply:

Thank you so much, it was our pleasure to work with you and help make your big day a little sweeter.


Laura
Married on 07/27/2018

It was a pleasure working with Cyndi and A Piece of Cake bakery! Cyndi went above and beyond to ensure that our wedding cake was exactly as we batas imagined it. At our cake tasting, she thoroughly went over every option to help us make the perfect selection. She allowed us to choose 4 different flavors/icings for each tier of our cake, which helped add a variety for our guests. The cake was absolutely delicious and we are excited to go back and purchase another for our 1 year anniversary. Overall we were really impressed with how amazing our beach wedding cake turned out – it definitely surpassed our expectations! We recommend A Piece of Cake bakery for all of your dessert needs!

A Piece of Cake's reply:

Thank you so much

It was our pleasure to work with you and help make your big day a little sweeter.

James
Married on 07/07/2018

We had our wedding at the Grand Hotel in Cape May, NJ, on July 7, 2018. We looked through a list of bakers for our desserts, and got in touch with Cyndi from A Piece of Cake. Some people put off a good vibe when you interact with them prior to meeting them, and Cyndi is no exception. We settled on a date for the tasting, and finally got to meet her in person. She is kind and friendly, and a knowledgeable and experienced baker. We settled on an assortment of desserts after tasting a few of the cupcakes and fillings. When the big day came, we saw the dessert table, and were amazed at how beautifully they were displayed. Everything was decorated perfectly and was delicious, to boot. We would highly recommend A Piece of Cake for your baking needs!

A Piece of Cake's reply:

Thank you guys so much , we loved working with you to make your big day a little sweeter . Hope to see you back again

Megan
Married on 06/09/2018

Amazing cake! I cannot thank this shop enough, it's been almost 3 weeks and people are still asking me where I selokan my cake because it was so delicious & beautiful! We siring a 3 teir cake, 2 layers were vanilla chocolate chip cake with chocolate pudding filling, and one layer was almond cake with raspberry filling- it was the best wedding cake i could have asked for!!

Brienne
Married on 10/14/2017

We found a cake that we loved the looks of on Pintrest. We took our photo to Cyndi to see if she could make it for us. Our ceremony was on the beach so we wanted a beach themed cake. The cake looked amazing! It was even better than we anticipated!!! And best of all, it was simply delicious!

Suzanne
Married on 10/07/2017

Cyndi was great to work with and very accommodating. Our wedding cake and desserts were just as good as they were at the tasting. We perenggan a cake as well as an assortment of desserts: cookies, brownies and her AMAZING "shooters". Since the wedding, we have continued to use Cyndi's services for other events – she's just THAT GOOD!

A Piece of Cake's reply:

Thank you so much! We had a blast working with you on the wedding and all the events since then. Even if it's just a visit for a strawberries and cream cup and some cake batter cookies

Joan
Married on 06/24/2017

My daughter's wedding was on June 30, 2018. I have been to many weddings and this cake was the most delicious and moist wedding cake that I have ever tasted. My daughter and our guests said "Best wedding cake ever!" There were four different layers; chocolate with raspberry filling, wedding cake with key lime filling, peanut butter with almond filling and nutella with coffee filling. Each one was delicious. The cake looked absolutely beautiful just like my daughter and I had visioned it. Thank you Piece of Cake for making the cake special and delicious.

Rachel
Married on 06/18/2016

Cyndi at A Piece of Cake was so great to work with. She helped my husband and I really customize the perfect cake for our wedding in Cape May. Was so accommodating- the bakery is not typically open on the day that we could come into town, but she did a tasting with us anyway and gave us to many options. They delivered the cake promptly and added fresh flowers (instead of a cake topper) at our venue, it looked beautiful and tasted great. Their pricing is a great value as well. I highly recommend this bakery!

Lisa
Married on 06/05/2016

We loved our beach themed wedding cake. We ordered the Almond Cake, all of our guests said it was the best tasting wedding cake they have ever sempadan! Five Stars to A Piece of Cake!!





User2587885
2+ years ago

These ladies were great to work with from designing the cake to delivery at the reception. The cake looked exactly like I wanted it to and tasted great!

Jamie
Married on 09/11/2015

I worked with Cyndi on ordering my wedding cake. From the start she was extremely responsive and flexible. She even met my fiance and I at the bakery on a scheduled closed day to accommodate us since we were traveling from North Jersey. We were sold after one bite of taste testing, and we're even more blown away by the actual finished product. When I saw my cake on my wedding night my first thought was that it truly was a masterpiece and was a little sad to ruin it by cutting it! The sadness was short lived as we tasted how rich and moist the chocolate cake was, and all of our guests loved it. Thank you so much to A Piece of Cake for helping make my wedding delicious!! Highly recommended!

A Piece of Cake's reply:

Thanks Jamie,
I had a blast working with you and I am so glad I was able to make your special day a little sweeter!!

Marygrace
Married on 08/02/2015

I absolutely loved my cake and brownie bites that we takat for our wedding. Cindy was extremely helpful in picking exactly what we wanted and surpassed what I expected. I went into the process not knowing what we wanted and had a tight budget, she gave me amazing ideas and we came up with a small cake for my husband and I to cut and two "bushels" of brownie bites assembled at our reception site. We drove down (from PA) to get some cupcakes which were the flavors for the small cake and we ended up with maple bacon. It was delicious!! After we cut our little cake, some of my husband's friends and groomsmen stole our cake and started eating it by the forkful! They were raving about it! I live in PA and will definitely come back for all occasions, my husband and I both agreed we would. It was that good!

A Piece of Cake's reply:

Thanks Mary grace, hope to see you guys again soon.
So glad I was able to make your special day a little sweeter!!

Kristin
Married on 07/09/2022

Beautiful Wedding Cake

We were incredibly pleased with our wedding cake from A Piece of Cake. Cyndi was very easy to work with and was responsive to any questions we perenggan throughout the process. We loved their system for wedding cake tasting- we were able to select a variety of cake and filling flavors to take home, then we perenggan a fun evening trying different combinations together mengangsur we found the pairings we liked best. They customized the cake exactly to our specifications and did a great job recreating a cake design I senggat seen online. So many guests told us after the wedding how delicious the cake was and we couldn't agree more! We would highly recommend A Piece of Cake to others for future weddings and events.




Tina
Married on 04/28/2018

Would recommend. Very Helpful and willing to work with you.

Erin
Married on 10/14/2016

We had our cake tasting last weekend. Great cake and friendly service! I will update after the wedding!

THE CAKE WAS DELICIOUS!!! Everyone raved about it. My husband and I actually didn't eat any the night of our wedding (other than the piece we fed each other), but it was fantastic the next day! It was beautiful and everything we had asked for!!!





User2167427
2+ years ago

Only responsive to the money transaction. Cake was titinada made to my specifications. They bit off more than they can choose. Cake was not the color I asked for which was metallic not pink and cream. I would have done better going toto the local acme or supermarket bakery. Very disappointed on my big day. Cake was crooked too.

A Piece of Cake's reply:

Since this person decided to be private, I will assume you are
Carmen whom called the shop and said her cake was off in color and not as big as she thought never once said it was crooked and never in any email or picturer you gave us was there any mention of metallic. The original picture was a cream color cake which you got there was no pink at all! The sizes you chose were a 8-10-12 which would feed uo to 120 and your guest count was 70. The woman who was there when we dropped the cake off was raving how beautiful the cake was and also asked how to cut the cake and I explained it to her if you cut big chunks it won't work event style slice s are 1″ by 2″ slices.
our cakes are never a exact replica of someone elses work . we are a custom cake and cupcake shop with our own artistic flare.
Sorry you didn't think your cake was big enough after that is the sizes you ordered and paid for.
Are you interested?
Send a message
A Piece of Cake Cape May
Source: https://www.weddingwire.com/reviews/a-piece-of-cake-villas/1d175bda9091a52b.html