Wallabies Vs All Black 2016 Live Stream
Wallabies Vs All Black 2016 Live Stream.
Key events
Fulltime: New Zealand 29-9 Australia

Conversion! New Zealand 29-9 Australia (Barrett 63)

Try! New Zealand 27-9 Australia (Cane 62)

Conversion! New Zealand 22-9 (Barrett 49)

Try! New Zealand 20-9 (J. Savea 48)

Peeeeeep!

Halftime: New Zealand 15-9 Australia

Yellow card to Coleman

Penalty! New Zealand 15-9 Australia (Hodge 35)

Try! New Zealand 15-6 (Dagg 23)

Penalty! New Zealand 10-6 Australia (Foley 21)

Penalty! New Zealand 10-3 Australia (Barrett 14)

Penalty! New Zealand 7-3 Australia (Foley 12)

Conversion! New Zealand 7-0 Australia (Barrett)

Try! New Zealand 5-0 Australia (Dagg, 8 min)

Peeeep!

Pre-ramble
Please turn on JavaScript to use this feature
What's that? It's my mum calling me for dinner.
So, thanks for your company tonight, your emails and tweets. Have a good day, hope y'all come back again, y'hear!
Here's Kieran Reed to accept the Bledisloe Cup.
"It was a true Bledisloe Test," he says kindly. "The [Australians] stuck at it tonight and made us work really hard… It was never going to be the same [as last week] but we were fortunate to get some tries in the second half."
Read then hoists the massive piece of silverware adv lewat his head. That's the 14th consecutive year a Wallabies team has tenggat to witness such a scene.
When will the misery end, Australia?
Not a lot of love for the referee out in social kendaraan land, and the Wallabies did seem to get the blunt edge of his stick on a few occasions, but his adjudications certainly didn'ufuk change the outcome of this game.
Fulltime: New Zealand 29-9 Australia
And that is that, four tries to none, and another bonus point for the All Blacks (in terms of the Rugby Championship). That too is the Bledisloe Cup secured for yet another year.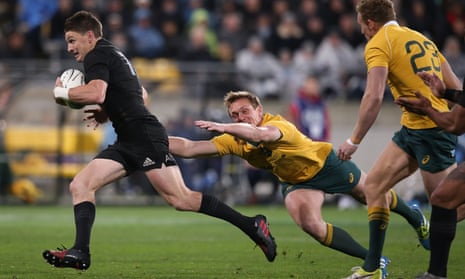 80 min:
Just as it appears the Wallabies have got themselves a consolation try we discover they haven't. Replays show Phipps dropped the ball in the act of slamming it down. He looks to have injured his shoulder in the process.
79 min:
Their noses bleeding in the altitude, the Wallabies push deep into AB territory, a galloping Folau, put into a hole by a Cooper inside ball, dragged down a little short. It shoots out to Hodge but the ABs are off-side.
77 min:
The Wallabies are throwing crazy passes in their own in-goal, Folau almost passing directing to Fekitoa. Cooper catches instead and just squeezes into the field of play. That was suicidal stuff.
75 min:
NZ have lost a little slickness here in their desperation to add to Australia's pain. They seem to be rushing things, pushing passes. That said, Kaino pops a sweet ball as he's falling to a charging Charlie Faumuina. Faumuina resembles a small atoll, albeit one with a thick beard. But one pass too many for NZ and the ball goes to ground.
74 min:
Our referee tells off the Australians for repeated infringements. There's a nice shot of Cheika behind the glass rocking back in his chair and mouthing something you don't need to be a lip-reader to read.
73 min:
Another penalty from in front to NZ; hands in the ruck.
As I wait for another scrum to be set there's time for Jen Oram to pick me up on calling Ben Smith Brad Smith. I'll sneak back and fix that, Jen, and no-one will ever know!
71 min:
As the scrum has to be reset a few times I can tell you NZ have sempadan 61% of possession and 65% of field possession, though it feels like 72% and 86%.
70 min:
Penalty to NZ right in front of the Aussie posts. Barrett could kick it with his eyes taken out and left in a sock in the sheds but there's not much point. Time to go for the try and drive the dagger a little deeper.
68 min:
New Zealand go close, playing hot potato near the left touchline, Perenara and Dane Coles prominent. Exciting stuff that Australia just managed to snuff out.
66 min:
Back we are near Australia's 22 after a lovely measured kick from Barrett finds touch.
But a relieving penalty to Australia sees Foley kick for touch. He doesn't find it. Perenara does.
Conversion! New Zealand 29-9 Australia (Barrett 63)
Barrett puts NZ 20 ahead, and he sempadan a big hand in that try, his run around the back setting up Smith's tackle-busting run that caused panic in the Aussie ranks.
Try! New Zealand 27-9 Australia (Cane 62)
And from a ruck Smith delivers a short ball into the chest of a charging Cane and there's no stopping him from there!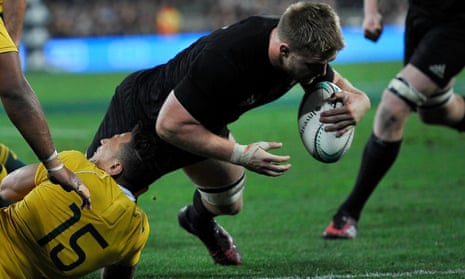 61 min:
A procession of possession to the ABs. They are camped in Australia's half, and here's Ben Smith beating one, beating two, beating three before being hauled down 5m out.
59 min:
A lineout on the Aussie 22 is caught by Read and the Blacks drive it closer and closer to the Aussie line. Finally they let the ball breathe and after a zip from Lienert-Brown, the ball comes back to the left where Savea is hemmed in on the touchline. His attempt to tiptoe inside it fails when he touches the chalk.
58 min:
Barrett misses the easy-ish penalty attempt, shanking it.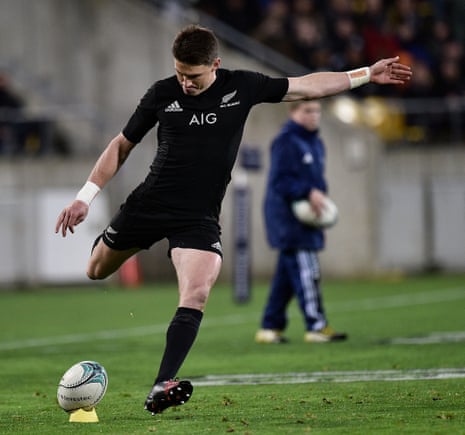 57 min:
Penalty to NZ, Australia offside at the ruck. This followed a Barrett catch deep in his half which he followed up with the kind of run you make when you're trying to get away from a toothy dog. In, out, here, there, he ate up about 40m before he was finally pulled to ground.
55 min:
Australia secure possession despite a screwing scrum and Foley finds touch near the half. His line kicking has been pretty good tonight.
Australia seem to be just trying to keep the score respectable at this point. Do they have a try in them? They need more than one.
52 min:
Israel v Israel! Folau just gets back to snaffle the ball after a NZ chip kick aimed for Dagg on the right flank.
Hmm, maybe Cooper is not gone after all. He appears to have recovered before the tarp was thrown over him. As you were.
50 min:
A penalty to Australia but this time Hodge can'cakrawala get the right direction, though he sure hits it hard. It clears the dead-ball line by about 20 m. Do you get points for that?
Cooper's night is over. He's succumbed to

bullying

that leg injury.
Conversion! New Zealand 22-9 (Barrett 49)
From the left touchline, Barrett does the business. Well, not 'the business', presumably he went at halftime. I mean, he kicks it.
Try! New Zealand 20-9 (J. Savea 48)
And from that NZ shoot downfield and score!
It comes from a bomb which Dagg pulls out of the arms of Cooper. It's recycled and Barrett runs a cut-throat angle then sends a beautiful cut out pass to Ben Smith who draws Folau to send Savea over in the corner!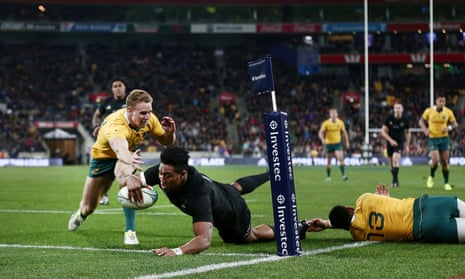 47 min:
Genia! Catches a bomb, brushes out of Smith's tackle, then Moody's, then Whitelock's, then races down the middle of the field. But there's no-one with him, and now the referee blows a penalty — but against Kepu!
45 min:
Short arm scrum penalty to Australia which displeases Franks who wants to discuss it with the referee, but the Frenchman sees someone he knows in the crowd and what with all his waving and 'allo'ing' he misses Franks' appeal for a chat.
43 min:
Fresh from their rest the ABs are throwing it about now with the type of abandon that used to be called 'gay' but can'ufuk anymore because of those bloody PC'ers ruining things for everyone! But Moody's attempt to bat on a ball instead of catching and passing ends up in a knock on.
Cooper, Quade, on the deck being treated for a leg injury. Australia still a man down, Coleman titinada due back for another few minutes.
41 min:
Shortly after the restart a scrum is set on the halfway line and NZ are awarded a penalty. A bit of push and shove ensues and the cries of the French referee ("Leave it, leave it, leave it number one") cut through the noise of the crowd.
Of course, I knew that. I just didn't at the time.
Ah, memories of school exams come flooding back:
Halftime: New Zealand 15-9 Australia
But NZ can't find another try and the ref blows for the break. The Wallabies will be as pleased as you can be to go into halftime of a Test trailing by six. They're doing enough to stem the tide and frustrate NZ but they haven'kaki langit had much of a chance to get across the line.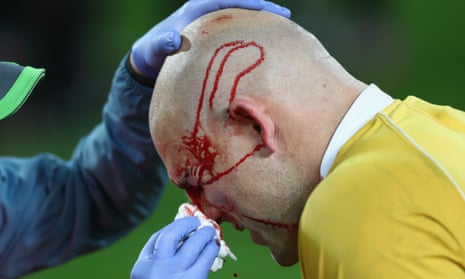 40 min:
Australia awarded a penalty inside their own half and Foley finds touch. Cheika is on the sideline in a pea coat with the collar up. He has something approaching a murderous look on his face. I don't think he's angry, however. It's just his face.
Maybe he's angry now! Genia fires a cannon of a pass into the chest of the man beside him and the ball rebounds into the hands of the ABs who'll get a chance to attack in the shadows of halftime.
38 min:
And that's 10 in the bin for Coleman who'll now get a chance to pick the best slices of oranges for himself, ones without the white inner skin on them. What's that stuff called?
Kearns says he's not upset at Coleman for doing that as it shows intent, stomach for the fight, or something like that.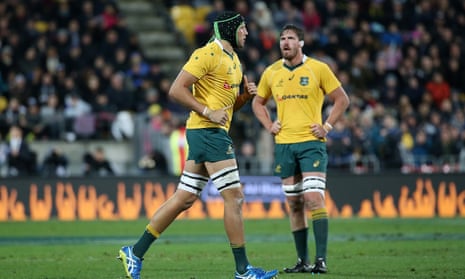 37 min:
Genia grubbers downfield and NZ have to turn and chase, but they regather and regroup and send the ball left to Ben Smith. As he hooks up with Julian Savea Coleman crunches him with a shoulder charge.
Penalty! New Zealand 15-9 Australia (Hodge 35)
What a lovely kick! Hodge hits it with everything, including a verse of poetry, and it flies as straight as an arrow from Cupid's bow. Welcome to the Wallabies, son!
34 min:
Franks penalised now for

having a head like a pie dropped from a three-storey building

coming in at the side. Reece Hodge, who came on for Ashley-Cooper, lines up a penalty attempt from three metres on his own side of halfway.
31 min:
Barrett misses his second kick of the night, spraying a penalty goal attempt across the face from widish on the right. He's 2/4 which, for him, isn'n great.
After the ABs get the ball back, Retallick coughs up the ball on the half when a takes a peek at the onrushing defence.
30 min:
The Wallabies are hanging in there, though AndyinBrum doesn't like the cut of their cucur:
27 min: From a maul Smith fires a ball towards an unmarked Dagg on the right touchline, a couple of metres out. It would have found him too tenggat Genia not shot out of the line like a Baggins out of a mountain cave and intercepted the ball. A try-saver.
Wallabies Vs All Black 2016 Live Stream
Source: https://www.theguardian.com/sport/live/2016/aug/27/australia-v-new-zealand-rugby-championship-live